A confluence of interesting events resulted in an outstanding Patriotic Day program for our community today. Students at Lassen View Elementary School treated veterans, active military, community members, and parents to songs and poems to share their patriotic spirit and to honor those who have served our country.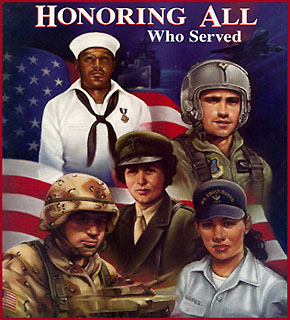 And here's how it all began: Principal Caryn Emerson had an idea to build a presentation in celebration of America. While plans were underway, people heard rumors about this presentation and wanted to attend. But with more than 400 students at the school, there would be no room on campus that would hold the students and any guests. A quick call to Lassen View's neighbor, Neighborhood Church, remedied the space issue, as they graciously offered the use of their new auditorium to the Lassen View community.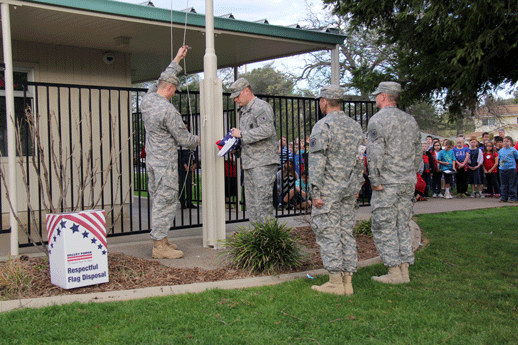 Then, in December, a first grade student learning about the American flag happened to look up, and he observed that the flag at school wasn't't looking its best. The flag had become a little tattered, and he shared that with his parents. His father took that piece of information and shared it with his employer, ACE Hardware. Management there wanted to help, so they donated a new flag to the school.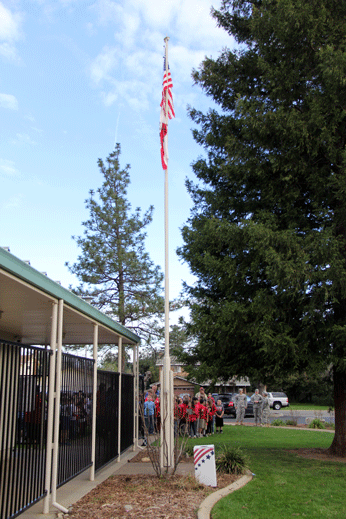 A ceremony would precede today's presentation with the raising of the special, new flag. All of the school's students gathered on the lawn. A Parsons student came to play the taps. An honor guard appropriately lowered the tattered flag, and the new flag was raised into place as students recited the Pledge of Allegiance.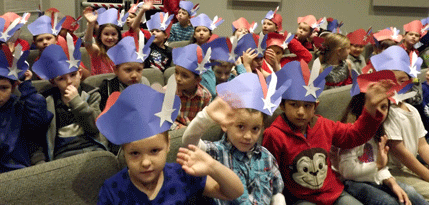 Students then entered the Neighborhood Church auditorium. Most were stunned at its size, but quickly spotted mom and dad in the audience, and mutual waves were shared.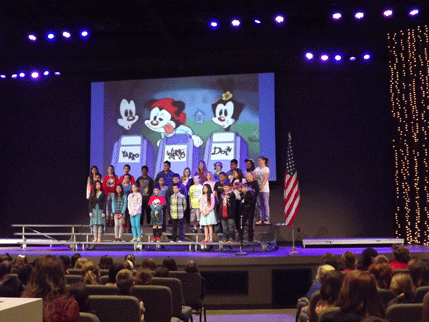 The program began with a fifth grade classroom singing a song of states and their capitals.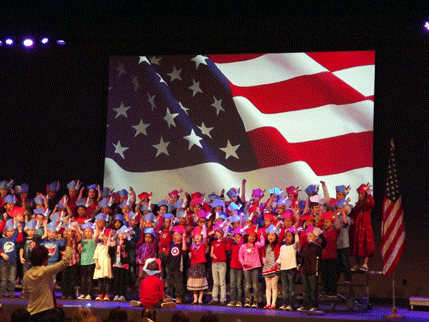 Three classrooms of first grade students joined together to sing America the Beautiful in English and in sign language. Students came to the microphone to speak and without one glitch or stammer or bit of forgetfulness, they spoke out clearly and loudly to recite their speech.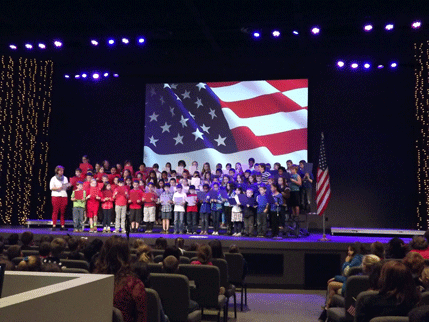 The third grade students read the poem Home of the Brave.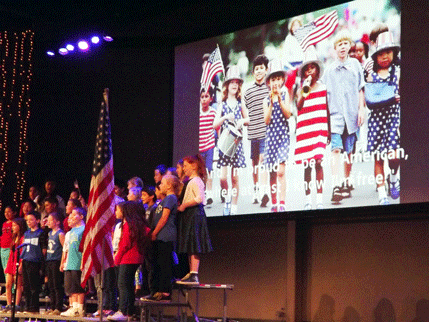 Fourth graders sang This Land is Your Land and I'm Proud to be an American.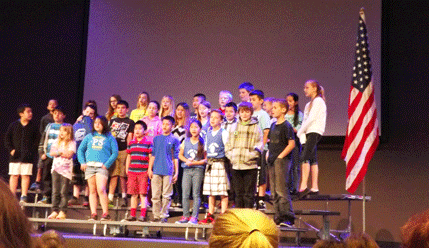 Mr. Banner's fifth grade students recited the Preamble to the Constitution.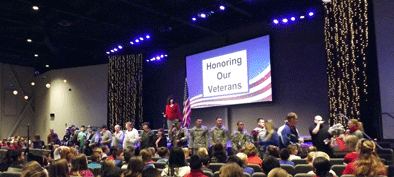 At the end, Mrs. Emerson invited all who had served our country in the military to come forward to be recognized. Kindergarten students distributed flowers to each of them and second grade students gave each one a letter they had penned in appreciation of their service.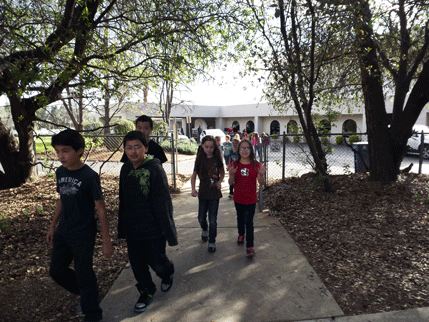 Students were dismissed back to the school where a '62 Huey helicopter awaited them. The medic who worked on one shared his experience with the students and allowed them to crawl inside.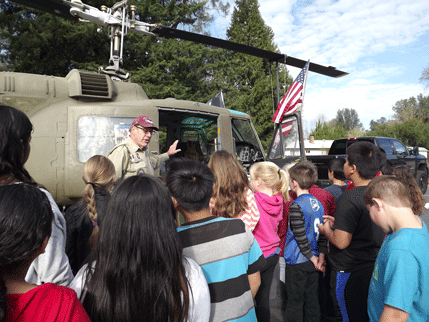 Students gathered around as former military personnel from Nor-Cal Veterans Historical Association, Inc., shared historical military uniforms and other memorabilia.

Lassen View Elementary School would like to thank one little observant boy and ACE Hardware for donating the flag. And it is with sincere gratitude that we thank Neighborhood Church staff for opening their doors and hearts and for doing the extra work that allowed us to have our celebration in such a wonderful facility, large enough to hold us all. But most of all, thank you to our current and former military personnel who have given the priceless gift of

themselves

for our freedom and for our country.